Model Name
Check Valve

SC-200

-PN 16

1/4" ~3" DN8~DN80


Features
Swing Type Check Valves
1. SWING TYPE
2. SCREWED END
3. SOLID WEDGE DISC
4. INVESTMENT CASTING COMPONENT


Notifications
Dimensions
Please refer to the Dimensions section.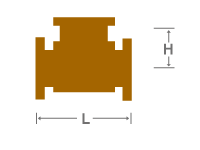 Measurement Units
1. All lengths are measured in millimeter and inch.
2. All weights are measured in kilograms and pounds
About Product
1. Shipping and Tax are not included in pricing.
2. All products supplied by Modentic are under products liability insurance.
3. Valvebus.com reserves the rights to change any details without prior notice.
About VALVEBUS
VALVEBUS.com reserves the right to change any details without prior notice.
Back to Top



Specifications
MODEL
SC-200
PRODUCT TYPE
Swing Type Check Valves
OPERATION
Swing Type
PRESSURE
PN 16
CONNECTION
Swing Type
PORT
-
BODY
Material
1.4408 / EN1503-1
CAP / BONNET
Material
1.4408 / EN1503-1
STEM
Material
-
DISC
Material
ASTM A351 Gr.CF8M
SEAT
Material
PTFE
SPRING
Material
SS316
PLATE
Material
ASTM A351 Gr.CF8M
SWING TYPE
In the open position of a swing type check valve, the flow of fluid forces the hinged disk up and allows free flow through the valve. Flow in the opposite direction with the aid of gravity, forces the hinged disk to close the passage and blocks the flow.
SOLID WEDGE
The solid wedge gate valve shown is the most commonly used disk because of its simplicity and strength. A valve with this type of wedge may be installed in any position and it is suitable for almost all fluids. It is practical for turbulent flow.
SC-200
STANDARD COMPLIANCE
• Body Wall Thickness : EN 12516-1/3
• Body Materail : EN 10213-4
• Threaded End : BS21/BSPT/ISO228-1/DIN2999/ISO7-1
• Pressure Testing : EN12266

TEMPERATURE RANGE
• -20° to 180°C

WORKING PRESSURE
• 0.15Kgf/cm2




Dimension + Weight
SIZE
NPS
E
mm
H
mm
L
mm
WEIGHT
kgs
DN8
-
42.0
65.0
-
DN10
-
42.0
65.0
-
DN15
-
42.0
65.0
-
DN20
-
51.0
80.0
-
DN25
-
60.0
90.0
-
DN32
-
67.0
105.0
-
DN40
-
75.0
120.0
-
DN50
-
81.0
140.0
-
DN65
-
93.0
180.0
-
DN80
-
104.0
200.0
-
SIZE
Inch
E
Inch
H
Inch
L
Inch
WEIGHT
lbs
1/4"
-
1.7
2.6
-
3/8"
-
1.7
2.6
-
1/2"
-
1.7
2.6
-
3/4"
-
2.0
3.1
-
1"
-
2.4
3.5
-
1-1/4"
-
2.6
4.1
-
1-1/2"
-
3.0
4.7
-
2"
-
3.2
5.5
-
2-1/2"
-
3.7
7.1
-
3"
-
4.1
7.9
-


Stocks
Product Code
Description
1/4''
3/8''
1/2''
3/4''
1''
1-1/4''
1-1/2''
2''
2-1/2''
3''
4''
5''
6''
8''
10''
12''
14''
16''
location
SC2000000000085E1
SWING CHECK VALVES, CF8M, THREAD END NPT, 200 PSI
9
97
62
66
27
23
17
13
Vietnam
SC200010317028FE1
SC200/PN16/1.4408/BSP(PF) SWING TYPE CHECK VALVES
Europe
SC200010317028FE1
SC200/PN16/1.4408/BSP(PF) SWING TYPE CHECK VALVES
1
Taiwan
UC:Unworked Casting