Model Name
Ball Valve

HPV-40FS

Full Bore3000 PSI

1/4" ~2" DN 8~DN50


Features
Three Pieces High Pressure Ball Valves
API 607 5th / ISO 10497-5 / BS 6755 Part II
1. ANSI B16.34 Class 1500 design
2. Blow-out proof stem
3. Anti-static design
4. ISO 5211 mounting flange
5. Threaded End


Notifications
Dimensions
Please refer to the Dimensions section.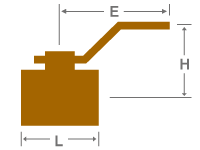 Measurement Units
1. All lengths are measured in millimeter and inch.
2. All weights are measured in kilograms and pounds
About Product
1. Shipping and Tax are not included in pricing.
2. All products supplied by Modentic are under products liability insurance.
3. Valvebus.com reserves the rights to change any details without prior notice.
About VALVEBUS
VALVEBUS.com reserves the right to change any details without prior notice.
Back to Top



Specifications
MODEL
HPV-40FS
PRODUCT TYPE
Three Pieces High Pressure Ball Valves
OPERATION
Handle
PRESSURE
3000 PSI
CONNECTION
Threaded End
PORT
Full Bore
CERTIFICATE
API 607 Fire Safe Approved
BODY
Material
AISI 316
CAP / BONNET
Material
AISI 316
STEM
Material
17-4PH
BALL
Material
ASTM A351 Gr.CF8M
SEAT
Material
PEEK
CHOICE OF SEATS
Material
DELRIN
PEEK

BODY SEAL
Material
PTFE+GRAPHITE
THRUST WASHER
Material
PTFE+GRAPHITE
STEM PACKING
Material
GRAPHITE
HPV-40FS
Please see the Download Section of the additional Certificates of Class 1500, PN260, and 3000PSI.




Dimension + Weight
SIZE
NPS
E
mm
H
mm
L
mm
WEIGHT
kgs
DN 8
151.0
61.0
85.0
2.15
DN10
151.0
61.0
85.0
2.15
DN15
151.0
67.0
89.0
3
DN20
183.0
81.0
102.0
4.4
DN25
183.0
95.0
111.0
5.6
DN32
285.0
113.0
119.0
7.6
DN40
285.0
117.0
126.0
10.7
DN50
285.0
125.0
148.0
20
SIZE
Inch
E
Inch
H
Inch
L
Inch
WEIGHT
lbs
1/4"
5.9
2.4
3.3
4.7
3/8"
5.9
2.4
3.3
4.7
1/2"
5.9
2.6
3.5
6.6
3/4"
7.2
3.2
4.0
9.7
1"
7.2
3.7
4.4
12.4
1-1/4"
11.2
4.4
4.7
16.8
1-1/2"
11.2
4.6
5.0
23.6
2"
11.2
4.9
5.8
44.2