Model Name
Ball Valve

K-435

Standard BorePN 63

1/4" ~2" DN8~DN50


Features
General Purpose Four Ways Ball Valves
1. INVESTMENT CAST COMPONENT
2. THREADED END
3. L / T / X PORT
4. BLOW-OUT-PROOF STEM
5. 360 DEGREE ROTATION DESIGN
6. FOUR SEATS & SCREWED BODY DESIGN
7. ISO 5211 DIRECT MOUNTING PAD


Notifications
Dimensions
Please refer to the Dimensions section.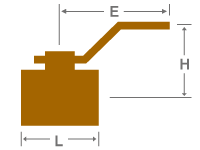 Measurement Units
1. All lengths are measured in millimeter and inch.
2. All weights are measured in kilograms and pounds
About Product
1. Shipping and Tax are not included in pricing.
2. All products supplied by Modentic are under products liability insurance.
3. Valvebus.com reserves the rights to change any details without prior notice.
About VALVEBUS
VALVEBUS.com reserves the right to change any details without prior notice.
Back to Top



Specifications
MODEL
K-435
PRODUCT TYPE
General Purpose Four Ways Ball Valves
OPERATION
Handle
PRESSURE
PN 63
CONNECTION
Threaded End
PORT
Standard Bore
MOUNTING
Mounting Flange
ISO 5211 Direct Mounting Flange
BODY
Material
1.4408 / EN1503-1
CAP / BONNET
Material
1.4408 / EN1503-1
STEM
Material
SS316
BALL
Material
ASTM A351 Gr.CF8M
SEAT
Material
PTFE
CHOICE OF SEATS
Material
PTFE
RTFE (PTFE with 15% G.F.)
Carbon filled PTFE
Carbon filled PEEK
PEEK
PCTFE
PTFE with 50% SS316
TFM

BODY SEAL
Material
PTFE
THRUST WASHER
Material
PTFE
STEM PACKING
Material
PTFE
THREADED END
END CONNECTION STANDARD
ANSI B1.20.1( NPT ) / DIN 259 /
DIN 2999 / ISO 228 / BSP / PT


ISO 5211 DIRECT MOUNTING PAD
ISO 5211 integral mounting pad allows for direct actuator mounting. The mounting flange always follow ISO 5211 standard design and could be perfectly match with most actuators in the worldwide. Stable torque of valve always lead to the effective cost saving.
K-435
STANDARD COMPLIANCE
• EN 12516 1/3, BS21 (BSP)
• BSPT, ISO 228-1G
• DIN2999, ISO 7-1Rp


TEMPERATURE RANGE
• -4 to 356 °F
• -20 to 180 °C


OPTION
• Clamp end also available for sanitary application
• Carbon Steel & Super Alloy upon request


Dimension + Weight
SIZE
NPS
E
mm
H
mm
L
mm
WEIGHT
kgs
DN8
132.0
64.9
75.7
0.70
DN10
132.0
64.9
75.7
0.70
DN15
132.0
64.9
75.7
0.69
DN20
180.0
71.6
86.6
-
DN25
180.0
94.3
103.0
1.70
DN32
180.0
100.0
118.2
-
DN40
225.0
115.7
125.8
-
DN50
225.0
124.9
149.0
-
SIZE
Inch
E
Inch
H
Inch
L
Inch
WEIGHT
lbs
1/4"
5.2
2.6
3.0
1.5
3/8"
5.2
2.6
3.0
1.5
1/2"
5.2
2.6
3.0
1.5
3/4"
7.1
2.8
3.4
-
1"
7.1
3.7
4.1
-
1-1/4"
7.1
3.9
4.7
-
1-1/2"
8.9
4.6
5.0
-
2"
8.9
4.9
5.9
-